X-Men Apocalypse a Sequel 5,000 Years in the Making
X-Men Apocalypse, Directed by Bryan Singer, is the ninth film in the X-Men franchise, hews hard to all the genre verities including, as its title more than implies, an end-of-the-world-as-we-know-it threat.
"Mutants are born with extraordinary abilities," Professor Xavier (James McAvoy) says as the movie begins in darkness. The darkness gives way to 3,600 B.C Egypt. Inside a pyramid, a peculiar ritual is taking place. The ritual is used to transporting soul from sacrificed object to X-Men Apocalypse movie main villain, and it is accompanied by the glowing and throbbing large-scale electronic circuitry embedded in the pyramid's interiors. Mutant business, we are meant to infer, existed before the X-Men. The opening sequence ends with a failure of the ritual due to the grandstand of slaves which is resulted with the collapsing of the pyramid and obliging the movie's eventual mutant villain to cool his heels for about five millenniums.
The sequel to X-Men Days of Future Past, X-Men Apocalypse takes place in 1983, 10 years after Mystique stops Magneto to kill President of the United States. Those had resulted in an uneasy détente between boring regular humanity and the peculiar mutants who walked among them.

Much of the first hour is devoted to getting-the-band-back-together mechanics, which also lets the scenarists a chance to give the characters some new emotional scars. Magneto (Michael Fassbender) has found peaceful anonymity in Poland and has started a family. However, Magneto is destined for major super villainy, and in the logic of supervillain character development, a mere tragic separation from one's family just doesn't cut it.

There's no doubt to say Singer's X-Men movies have always delivered what could be called a higher class of superhero entertainment. It is no accident that no character in this movie appears wearing a costume until the movie gets close to its climax. It's also pertinent that the X-Men movies have always been anchored by great actors. In the early ones, the roles of rival frenemy mutants Dr. Charles Xavier and Magneto were played by Patrick Stewart and Ian McKellen. Then, the young Xavier and Magneto are played by McAvoy and Fassbender just as convincing as their seniors. Also, we have recent X-men movies boast Jennifer Lawrence as the morphable mutant called either Raven or Mystique, depending on who's doing the calling.
As the main villain, En Sabah Nur (Oscar Isaac) fares poorly through no fault of his own. Buried under makeup that leaves him looking like a renegade member of Blue Man Group, he has no chance to display the charisma that made him such a vital component of Star Wars The Force Awakens last year. He delivers many of his lines in the same kind of portent-laden stage whisper that Marlon Brando used as Colonel Kurtz in X-Men Apocalypse now.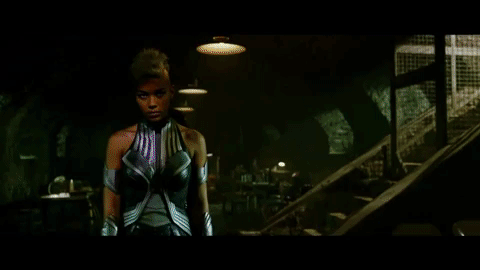 After destroying Cairo turning it into a desert, the mutant villain and his handpicked four horsemen face off against Xavier and his mutant students. The battle is more interesting for being played out on fields both physical and psychic, but for every lively moment, there's a reminder that the franchise is tiring. The genre's emphasis on potential mass death is obsessive and unimaginative.
Other few things to know before you get into the movie is X-Men Apocalypse rated PG-13 (Parents strongly cautioned) for language and apocalypse, and its running time is 2 hours 23 minutes.