Thor Ragnarok 2017 – Comic Con Trailer Revealed 10 Major Spoilers (Part 2)
Let's continue dissecting what we've gathered after the revelation of Thor Ragnarok 2017 new trailer at Comic Con. We promise you would be amazed of what we could find.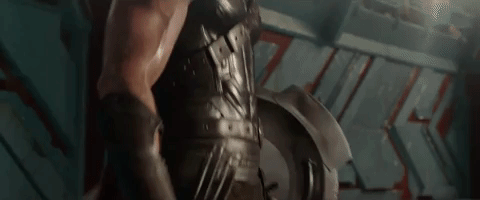 Not to waste any much time, here are the last 5 major details spoiler in Thor Ragnarok 2017
Asgard Sees A Lot Of Death
We've already seen Hela attacking Asgard scenes, with a quite clear suggestion that she's going to wipe out every line of defense the planet own without almost any difficulty, and there's more of an implication of her murderous triumph in the Comic Con trailer.
The background of her spell-binding scenes in Asgard unveil the ruins of the Asgardian army lying in tatters, and guessing on how huge that force is revealed to be elsewhere, it's no doubt she has QUITE the kill-list.
Even more intriguingly, it seems that the defense is led by Hogun (Tadanobu Asano), who comes back to the movie as part of the Warriors Three.
Given that the instant aftermath of this clash indicates that the entire defending force is destroyed, this doesn't look good for Hogan. And there's also the fact that he's entirely expendable standing against him too. Expect this to very much be his last stand.
The Beta Ray Bill Easter Egg
As was quickly spotted by fans in Thor Ragnarok 2017 trailer's release, Sakaar has a major monument to some of the champions who ruled the arena before Hulk involved, and some of them are familiar characters from Marvel world.
The planet's skyline is ruled by a grand totem dressed with busts of the likes of Beta Ray Bill, Ares, Man-Thing and Bi-Beast, hinting that The Grandmaster has been in the business of fight fixing for quite a time now.
Whether we'll actually have the opportunity to see any of these characters on screen stays being seen, but there have been long-running rumors that Bill would show up at some point in the Marvel Cinematic Universe. He'd surely work as a experienced fighter who tells Thor the lay of the land and gives him a hand with his escape plan.
Valkyrie Suits Up, Attacks Asgard
As well as featuring tons of frankly astonishing shots of Valkyrie's original fall during Hela's first rise to power (as well as the apparent death of the rest of her people), Thor Ragnarok 2017 trailer shows that the hero pulls on her old armor to help Thor face his battle with the baddies.
Having been granted Grandmaster's magnificent ship, Valkyrie seemingly crashes into the Rainbow bridge on Asgard and lays waste to Hela's forces, at the beginning on her own (leading to that epic scene framed in colorful sparks) and then as part of Thor's tiny-Avengers team that also involves Loki and Hulk.
Despite their increased numbers (and the number of her minions they slay on arrival), it doesn't quite seem like Hela is all that annoyed when they battle. Presumably due to the fact that she's got another couple of hidden wild cards up her sleeve.
Thor And Bruce Escape Sakaar Together
When the first Thor Ragnarok 2017 trailer released, it seemed suspiciously like Hulk had lost his mind and would be fighting against Thor for real in the Sakaar arena and that Thor later escapes the planet with Valkyrie alone.
The brand new Thor Ragnarok 2017 trailer is different in every aspect: the arena brawl ends with both still alive (though Banner being around indicates that Thor might actually win), and a couple of scenes feature the duo in a spaceship escaping the planet (presumably through the huge portals above the planet's surface).
Presumably the same ship also helps Valkyrie and Loki flee away from the planet, with Valkyrie without any doubt betraying Grandmaster when she realizes that Hela has risen once again.
Hulk Fights Surtur (And Fenris)
By the look of it, Thor isn't the solely one to head to Muspelheim (which seemed like the realm he is seen locked up in at the very beginning of the first trailer). It appears that Hulk travels to the realm of fire too, as Hela threatens to unleash the evil demon Surtur on the universe (as part of the approaching of Ragnarok).
The specifics of this shot are well up for discussion, but at least we know to anticipate a significant clash to end all clashes when Hulk fights against the gigantic demon. It wouldn't at all be surprising if this sequence is part of Hulk trying to save Thor from Surtur after Hela "kills" him, which then begins the complex, new story for the character Mark Ruffalo has indicated will surely head into Infinity War.
There's also a scene that proves that it's the Jade Giant who battles the intimidating looking Fenris Wolf as well. Obviously, he's going to have his big green hands full.
https://freemoviesz.online/watch/thor-ragnarok-756