The Making of True Romance: 'You've got a lot of heart, kid'
It was 1993 when Quentin Tarantino has recently emerged as Hollywood's new enfant terrible. His Reservoir Dogs stormed the Sundance Film Festival the previous year in a blaze of bravado, brutality and street-smart dialogue. His Pulp Fiction is in production and will later spark both shock and awe after becoming only the fourth American film to win the Palme D'Or. With 2 success in a row, his scripts had generated a big buzz making them to be most wanted. One of them is the script of True Romance, which has become one of his best works.
True Romance's original name is The Open Road, and it began as a small, problematic draft by Pulp Fiction co-writer Roger Avary in 1985. It was clear that the script was too gargantuan to be filleted into one movie. Nor would it sell as a miniseries.
The only logical step would be to split it in two. Fast-forward a few more years, Tarantino was working at the film distribution company CineTel. He found himself at Tony Scott's birthday party and pitch his Reservoir Dogs and True Romance to Scott.
Scott wanted to shoot both pictures right away. Still, their deal ended up with Tarantino keeping of one of the screenplays for himself to, and that was the True Romance 1993 that Scott chose to direct. From there, Scott do his best to bring the best of Tarantino's story to the big screen. He stuck to the script except for the ending, he saved the male protagonist from the dead that Tarantino had marked.
The script is not the only good component of True Romance full movie. The True Romance soundtrack also contribute a lot to the movie, and that was Hans Zimmer who composed the sound track using Badlands theme and Gassenhauer as a reference point.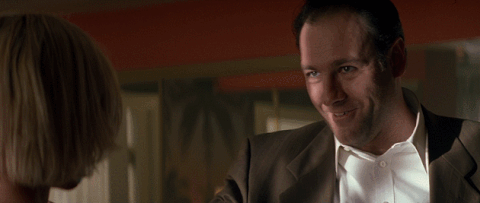 Back to Scott, due to his blockbuster record with Top Gun and Days of Thunder, he was able to persuade Harvey and Bob Weinstein to come aboard as executive producers. The crew behind the scene was set without any question, but the cast had some rough time. Tarantino wrote the script with Robert Carradine and Joan Cusack in mind, but it was Christian Slater and Patricia Arquette who play Clarence and Alabama.
Arquette wasn't Scott's first choice, either. Scott wanted Drew Barrymore for his movie, but she seemed to be unavailable. However, decades after the movie's release, it's impossible to picture anyone else as Alabama but Arquette. Scene by scene, the chemistry fizzes between her and Slater. With the leads in place, Scott now had to assemble the rest of the cast with Gary Oldman (as a pimp), Christopher Walken (as a debonair mafioso), Dennis Hopper (as Clarence's security guard father), Tom Sizemore and Chris Penn (as detectives), James Gandolfini (as a hulking hitman), Brad Pitt (as a stoner), Samuel L Jackson (as a profanity-spurting drug dealer) and Val Kilmer (as an apparition of Elvis Presley), among others.
True Romance full movie rocked the box office taking in over $12 million, and critics were split. "True Romance was made with such an enchanting goofiness", wrote Roger Ebert, "that it's impossible to resist", while Hugo Davenport called it "unpredictable, ingenious, movie-literate – and disgracefully funny". On the other hand the Washington Post deemed it as a "bloody mess" and "aesthetically corrupt".
It wasn't just critics that were put off by the movie moments. The movie didn't go well with politic. Bob Dole lambasted True Romance 1993 full movie as an example of films that "revel in mindless violence and loveless sex". It was also denounced as having racist overtones because of its sequence involving Dennis Hopper insulting Christopher Walken about his Sicilian heritage "You see, hundreds and hundreds of years ago, the Moors conquered Sicily…". On top of the controversy surrounding the movie's violence, the British Board of Film Classification (BBFC) refused to let Warner Bros release True Romance full movie on VHS in the UK. Today the film is considered as a bona fide cult classic. It moves fast, pin-balling from one scene to the next on the vim of its script and the bombastic flair of its director.