The Amazing Spider Man 2: So Savvy, Punchy and Dashing That It Won't Be Denied
Our childhood superheroes never die, they're still there to fill up the childhood of following generation. Spider Man has go a long road to do so. Spidey has taken the Hollywood shilling, embraced three-dimensions and pitched himself squarely at the multiplex crowd. Yet, The Amazing Spider Man 2 turns out to be so savvy, punchy and dashing that it won't be denied. It's the thread that won't break and the yarn which still binds.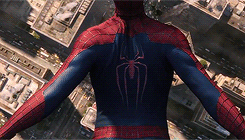 The blockbuster, directed by Marc Webb, is the sequel to the reboot of the movie adaptation of the original Marvel comic-books, or in short, a copy of a copy. However, The Amazing Spider Man 2 movie makes a buzz as it keeps the theme of gawky youth surging powers so skittish and fresh.
The success of The Amazing Spider Man 2 movie movie comes with the perfect casting of Andrew Garfield as Peter Parker.
Garfield has perfectly portrayed Peter we know from comic. There is a superhero who occasionally travels to work with a heavy cold. He is not above riding to the rescue of a bullied schoolboy or humiliating a Russian gangster by pulling down his pants. Garfield's gallant web-slinger may be out in the world and halfway up a building, but he clearly still has one foot in the locker room at high school.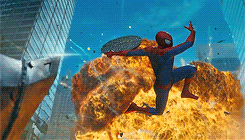 The movie script deliver sterner tests and emotional entanglements. On this occasion, Parker breaks up with Gwen Stacy (Emma Stone). Things get worse for Spider Man as he must also contend with a brace of fledgling super-villains in sickly Harry Osborn (Dane DeHaan), a putative Green Goblin, and downtrodden Max Dillon (Jamie Foxx), who flicks a switch and becomes Electro.
The note is that neither Harry and Max tend to be evil, it's their feeling of being betrayed drive them to the wrong path. In the perfect world, Electro and Spidey may be best friend, but the reality is harsh making them against each other. Near the end, superhero and supervillain proceed to square off in pitched battle inside the pitch-black city, while the Goblin clears his throat backstage. Gwen Stacy watches anxiously from the wings.
It's undeniable that Webb's approach has cut a few corners and taken the occasional liberty. The most hazardous of these is the decision to beef-up the backstory of Peter Parker's parents. It has conjured our lowly orphaned hero into a gilded little prince. After all, that's okay, the movie must adapt in order to survive and The Amazing Spider Man 2 seems to know exactly how to adapt. The movie is bold and bright and possesses charm in abundance. With Spidey swings his way to the end, the movie also swings into the future and carries the audience with it.