Blade Runner 2049: Everything We Know So Far
"I want to ask you some questions," Officer K (Ryan Gosling) says Rick Deckard (Harrison Ford) in the first trailer of Blade Runner 2049.
The sequel of Ridley Scott's neo-noir classic debut takes place three decades after the original, with Gosling's blade runner 2049– a bounty hunter of bio-robotic androids. The movie is directed by directed by Denis Villenueve and written by Hampton Fancher.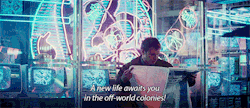 The first trailer takes audiences back in the futuristic, cluttered Los Angeles of the original Blade Runner, in which Officer K seeking to unlock a mystery that could catalyze a war between humans and the look-alike beings. The trailer opens with silver-eyed Wallace (Jared Leto) kneeling at the slimy end of the birth canal process for "replicants". "Every civilization was built off the back of a disposable workforce," he tells a full-grown newborn, "But I can only make so many. Happy birthday."
Robin Wright plays Officer K's boss. In the trailer, he breaks down the basic premise of blade running: "There is an order to things. That's what we do here: We keep order. The world is built on a wall that separates kind. Tell either side there's no wall, you bought a war."
According to the movie's synopsis, Officer K discovers a long-hidden secret that would bring chaos of what's left of the society. Continue tracking down the path, K finds himself on a quest to find Rick Deckard, a former LAPD blade runner who has been missing for 30 years. The climax comes when K encounters Deckard when Deckard is hiding for an unknown reason.
"You're a cop. I did your job once. I was good at it," Deckard points a gun at the young blade runner. K responds that he wants to ask Deckard some questions, a nod to the infamous Voight-Kampff test used by blade runners to distinguish man from machine. It's still unclear why K seeks out Deckard, but the former blade runner is needed to unlock the puzzle at the heart of the movie
The trailer gives us glimpses at characters such as Halt (Dave Bautista) and K's love interest (Ana de Armas) and unknown one played by Mackenzie Davis. Also, there is Sylvia Hoeks, who appears to portray a bounty hunter of bounty hunters under Wallace's employ, showing up in multiple shootouts in the trailer. However, seedy cop Gaff (Edward James Olmos) is absent from the first trailer.
It's unclear what role Bautista is playing, but it seems to be Dave going to be a 350-pound "replicant" Ridley Scott, a producer on the sequel, previously revealed mentioned about when Scott revealed how the opening sequence to the sequel would be: Deckard fighting a 350-pound "replicant" in the barren wastelands of 2019 Wyoming. Scott also hinted that the Blade Runner sequel would finally answer whether Deckard is a "replicant", but Blade Runner 2049 will likely torment audiences with that same question regarding Officer K. "Your story isn't over yet. There's still a page left," de Armas tells K in voiceover as the blade runner stares down at an open book, pages torn from its middle, in a scene reminiscent to the "unicorn" memories where Deckard questioned his own reality in Blade Runner.
Before the trailer premiered, Gosling, Ford and Villeneuve sat down for a Facebook Live panel to discuss the impact of the original Blade Runner, the connection between the movies and how the technology seen in the "prophetic" 1982 movie holding up to reality.
"We are still exploring the themes of memories and empathy," Villeneuve said. "That is what the film is about: What it means to be human."
Blade Runner 2049 will be in theaters on October 6th.