6 Upcoming movies that is worth waiting for in 2017
It's nearly the end of 2017. During the first half of the year, we have seen Hugh Jackman gave his final Wolverine performance – Logan 2017, a Power Rangers reboot and an action film from Christopher Nolan. So what will the rest of the year offer for us?
The end of 2017 is only four months away and it certainly went by quickly as ever. It feels like only yesterday since the world was still assuming that Wonder Woman movie would be a major flop much like the other two preceding DC movies. But now it's August: the very end of summer, gearing towards fall and we still have loads of movies to get ready for this year.
Despite so many upcoming movies coming our way soon, I've chosen for myself six upcoming films that have caught my eye the most. A combo of superhero films, highly anticipated sequels and some under-the-radar films, all six of these features are the ones that you should definitely keep an eye out for. Quite a number of these films do categorize as R-rated, so be warned! Having been warned, let's jump into the list!
Director:Darren Aronofsky
Starring: Jennifer Lawrence and Javier Bardem
Release Date: September 15
From the filmmaker bringing us surreal nightmare fueled films like "Black Swan" and "Requiem for a Dream", "mother!" is the film that has the least amount of details surrounding it. Despite coming out in just over a month, the very plot itself appears rather unclear about what's happening. So far, all I could figure out is that the film involves a couple's relationship put to the test when some unexpected guests arrive in their home. With a plot extremely vague and a teaser of a teaser equally, why am I so excited for it?
To be honest, Darren Aronofsky is the only point attracting me. "Black Swan" is amongst my most favorite films of all-time and his unusual craft towards filmmaking is something that I've grown to appreciate over the years. He is a filmmaker whom I can confidently claim can actually disturb the audience at will, this puts my excitement level extra high and I trust him to strike again this time. Wanna know better his style? Watch the trailer for yourself and you'll see!
Director: Taika Waititi
Starring: Chris Hemsworth, Tom Hiddleston, Cate Blanchett and Mark Ruffalo
Release Date: November 3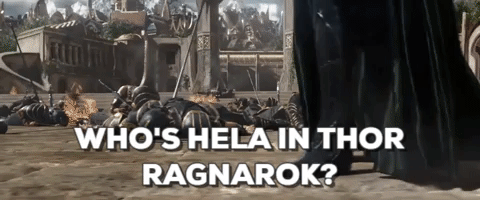 The Thor trilogy isn't exactly acknowledged for being a particular favorite amongst the Marvel Cinematic Universe's fans. Both of the previous films were criticized for their blandness and uninspired filmmaking, with Chris Hemsworth and everyone's favorite bad boy, Tom Hiddleston, being the only standouts of the films. So when the third official film was announced, I wasn't expecting much. What more could they perform with this trilogy after the underwhelming content of the first two films? Judging from the trailers, quite a bit, actually!
The trailers hint us at some notable changes to the filmmaking craft. To start off, the colors look absolutely stunning, clearly inspired from Guardians of the Galaxy full movie. It brings the film back to life and gives the setting and the actors things to work with. In addition, the film's humor appears to both lighten up and feel just a lot more natural than the other two. Finally, despite being part of a major franchise, the film seems as though the people behind its making are actually having fun with what they're doing. I personally believe that if people are shown to love what they're doing on-screen, it makes the experience more enjoyable and hopefully I can say the same after the film finally comes out.
4. Blade Runner 2049
Directed: Denis Villeneuve
Starring: Ryan Gosling and Harrison Ford
Release Date: October 6
Who would've thought that the anticipation for the sequel of a 35-year-old film could be this hyped? Well, it's actually happening! The famous 1982 sci-fi noir film of Ridley Scott, Blade Runner movie, is finally getting a much-anticipated and well-deserved sequel after nearly four decades. The story of replicants, superhuman Artificial Intelligence beings, will continue and hopefully get even more developed. As a huge fan of the first film, I'm more excited than ever for the sequel. But the film's lore is not the only thing that draws me to the sequel.
Denis Villeneuve, the talented director produced such incredible films like "Incendies", "Prisoners", "Enemy", "Sicario" and one of the 2016 Oscar nominees for Best Picture, "Arrival", is directing this film in place of Ridley Scott and based on his record so far, the film is assured to be in good hands. Villeneuve is a director who clearly knows his strength when it comes to directing and topped with some truly stunning visuals, breath-taking action shots and the return of Harrison Ford, this film has me all hyped up and it  doesn't seem to die down anytime soon.
3. The Disaster Artist
Director: James Franco
Starring: James Franco, Dave Franco and Seth Rogen
Release Date: December 1
When it comes to movies, I can't count how many I loved. Whether they're exceptional or extremely poor, I can sit in front of the TV and either gaze at a truly mind-blowing masterpiece or laugh at a lovely but misguided attempt at a masterpiece. "The Room" is a film that, while it let the audiences down on delivering what it wanted to, I can trust as an enjoyable watch, no matter what mood I'm in. So, when it was announced that the behind the scenes antics of the film would be adapted for the screen, you can safely assume that I had long waited for the first trailer to drop and now that it has, I'm even more pumped for this film.
This year hasn't been well for a number of comedies and I am hoping for this film to do well both critically and financially. With an Oscar-season release date, this film seems to go big or go home and the sheer oddness of what James Franco is attempting is truly admirable, but let's hope that it won't fall into the same category as its 2003 counterpart.
2. It
Director: Andres Muschietti
Starring: Bill Skarsgard, Jaeden Lieberher and Finn Wolfhard
Release Date: September 8
It's been such a long time since we've seen a decent film adaptation of a Stephen King book. His stories are amongst some of the most honored in the entire world but their transition to film isn't as smooth. Honestly, much of what King writes can be a bit challenging to get by censors. Despite the film being R-rated, I can assure some of the nastier stuff is going to be cut out just to not get hit with an NC-17. For those who understand which scenes I'm referring, I assume that you'll agree with me. Yet, I'm both anticipated and hyped to see what the modern "It" will have up in its sleeve.
It seems to be both haunting and frightening as both trailers have an unmistakable sense of dreadfulness and despair. The second trailer in particular hints the viewers at what Pennywise the Clown can do. If the clown can perform what I'm sure he can do, then this adaptation appears to be in good hands.
1. "Wind River"
Director: Taylor Sheridan
Starring Jeremy Renner, Elizabeth Olsen and Gil Birmingham
Release Date: August 4
It's understandable that my most anticipated film of the year is also the one with the closest release date. Sure, it's not a film that I expect to make bags of cash. It isn't a typical film with the marketing or the stars of some well-known actors, though Olsen (Scarlet Witch) and Renner (Hawkeye) will attract some viewers. However, it's hard to hide my anticipation for this film.
I've been longing for Wind River movie ever since I first heard that Taylor Sheridan would be the director. "Who is Taylor Sheridan?", you may ask. For Sons of Anarchy's fans, Sheridan acts the part of the Chief of Police, David Hale. And how do I know him? Well, he also wrote the screenplays for both "Sicario" and "Hell or High Water", the latter achieved the Best Picture-nominee at last year's Oscars. The film is also a personal favorite of mine, being my second most favorite film of 2016, so now that he's actually directing his own screenplay for this one, needless to say, I'm overwhelmed.